What We Offer
Harnessing the Power of Research
SOAR is a fee-for-service unit of the Smithsonian Institution that provides research, planning, and strategy services to other units within the Institution. With over thirty years of experience working with Smithsonian units, we offer an objective, pan-Institutional perspective. This means we can offer up-to-date expertise backed by a wealth of knowledge of how the Smithsonian works. We also occasionally work with other organizations in the museum and cultural sectors.
If you are interested in harnessing our expertise, contact us.
SOAR works in two broad areas: Audience Research and Organizational Effectiveness
Audience Research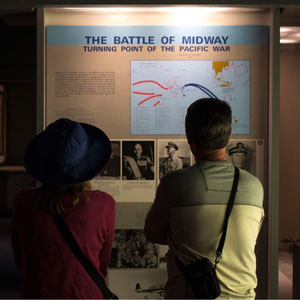 We work with our clients to help them learn more about their audiences—whether they are visitors to SI museums, participants in SI programs, or users of SI online resources.
We help our clients understand their audiences':
Characteristics: Who are they? What are their demographic characteristics (age, gender, race/ethnicity, etc.)? Where do they come from? 
Entrance narrative: What do they expect? What do they want to see? What motivated them to come?
Behavior: What do they do? How do they engage? What services do they use?
Experience: How satisfied are they? What do they find unsatisfactory? What really moves them? What stood out about their visit?
Potential: How can their experience be improved? How can they become promoters and advocates, rather than just consumers? How can we attract more people from underserved communities? How can our programs better meet participants' needs?
And more...
These types of data help the Smithsonian offer its audiences a richer, more impactful experience for everyone.

Organizational Effectiveness 
We help our clients—Smithsonian departments, offices, units, and central administration—understand their operations, organizational culture, and work environment. Through this, we help them improve their efficiency and effectiveness, and work with them to assess their present and plan for the future.
Overview Studies of Key Functions, Services, and Trends: What internal issues and external trends affect the Smithsonian?  How do these issues and trends affect broad programmatic and mission-enabling areas—such as exhibitions, collections management, education, digitization, data sharing, partnerships, and interdisciplinary research? How can the Smithsonian better leverage its successes? How can units and the central administration better advance their missions?
Strategic and Operational Planning: What are the organization's strengths, weaknesses, opportunities, and threats? How is the world changing, and what are the implications? What goals should you set for the coming years? What strategies can you adopt to accomplish these goals? How can these strategies be translated into concrete workflows, projects, and initiatives?
Needs Assessment and Feasibility Studies: What stakeholder needs is your organization well-positioned to serve? What resources will you need to do so effectively?
Performance Measurement and Benchmarking: How can you measure organizational success and progress? How does your organization perform on the relevant metrics? How does it compare with peer organizations?
Logic Modeling: How can the articulation and mapping of program resources, audience, activities, outputs, and short to long-range outcomes provide a feedback loop for program improvement and performance measurement?
Employee and Client Satisfaction: What do your staff think about their work environment? Are they generally satisfied? Why or why not? What do your stakeholders think about your products and services? Where do they see strengths to be built upon and weaknesses to be addressed?
Organizational Culture Assessments: How does your workforce perceive and experience the workplace with regards to inclusion, diversity, equity, and access? How can your organization improve workplace morale, civility, and inclusiveness? 
Work Process and Capacity Audits: How is your organization set up to serve stakeholders? What resources does it consume to do so? Can those resources be used more efficiently?
And more…
How We Do It
Here are some of the ways in which SOAR can work to help you achieve your goals for your audiences and your organization.
Audience Research
Visitor, Participant, and User Surveys
In-Depth Interviewing
Visitor Observation and Tracking
Concept-Testing and Prototyping
Program and Exhibition Evaluation
Experience Testing and "Mystery" Visiting
Formative, Process, and Summative Evaluations
Secondary Audience Research
Organizational Effectiveness
Management Studies
Case Studies
Workshop Design and Facilitation
Liberating StructuresTM
SWOT Analyses
Logic Models
Metrics Formulation
Project Management
Benchmarking
Employee and Client Surveys