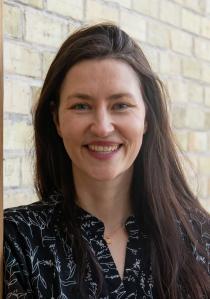 Senior Social Science Analyst
(202) 633-5602
EckertC@si.edu
Claire Eckert has worked with Smithsonian and external museums, organizations, and federal agencies to assess the impact and efficacy of their programs, exhibitions, and services.
Claire has led assessments of workplace perceptions and experiences of diversity, equity, inclusion, and accessibility at the Smithsonian's National Museum of American History and National Museum of Natural History, among others. Currently, she is working on a Smithsonian-wide study to advance gender equality in the sciences, which is supported by the Smithsonian's American Women's History Initiative. 
Claire has worked with the National Museum of African American History and Culture (NMAAHC) to conduct audience research for the Searchable Museum, an initiative to translate the museum's Slavery and Freedom exhibition into a digital experience. She is also working with NMAAHC's Office of Strategic Partnership (OSP) to assess its Ethical Interpretation program, which helps prepare museum and heritage professionals to effectively interpret difficult history, including the history of slavery and its legacy.
While at the Smithsonian, Claire has co-authored a report on the interplay of Art and Science titled Interplay of Perspectives: History, Art & Culture + Science, Interdisciplinary Crossover and Collaboration, consulted on the building of the Jeju Aerospace Museum in Jeju, South Korea, and led Written in Rock, a US Department of State funded cultural exchange on the study of petroglyphs (rock carvings) in Azerbaijan and New Mexico (http://wir.si.edu/). In 2015, Claire conducted a yearlong, multi-phase evaluation of several teacher training programs on Holocaust education at the Museum of Jewish Heritage in New York City. In 2016-2017, she led a Smithsonian-wide study and survey of volunteer management and satisfaction, resulting in the report Strength of the Smithsonian.
In 2017, she was a visiting researcher at the Metropolitan Edo-Tokyo Museum in Tokyo, Japan, where for six months she conducted research about non-Japanese museum visitor experiences and advised senior staff on her findings and recommendations.
Claire is originally from Canada and prior to joining the Smithsonian she worked at the University of Toronto's Blackwood Gallery, the Koffler Center of the Arts in Toronto, Canada and the Institute of Contemporary Art in London, England. Claire's undergraduate studies were completed at the Glasgow School of Art in Scotland and Queen's University in Kingston, Ontario. She completed a Master's degree in Art History with a Diploma in Curatorial Studies and Museum Management from York University in Toronto, Canada. She is currently studying Industrial Organizational Psychology at Harvard University.
Areas of Special Expertise:
Organizational Studies
Evaluation
Audience Research
Project Management
Research Methods